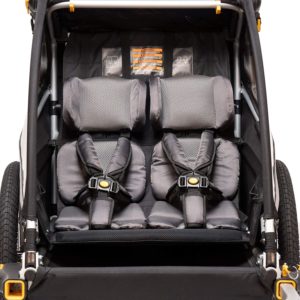 Cycling, jogging and taking walks are general exercises amongst individuals today. Mostly during the COVID-19 lockdown, strolling on your street once in a while could you keep you sane and if you have kids you need the best bike trailer for kids to walk freely.
As easy as this is, it becomes a whole ball game when a family needs your attention. Maintaining an active lifestyle or going on vacations with a family is almost impossible.
However, having a bike trailer allows a parent to take their kids wherever they go or when exercising. Besides using a car to run errands doesn't always have to be a thing, when the bike trailer can help make the moments exciting for the child.
With the many types of bike trailers available today, getting the best bike trailer to transport your child should be taken into serious considerations.
Types of Bike Trailer for Kids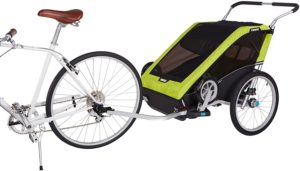 There are different types of bike trailers for kids with intentions for different kinds of usage.
Single Bike Trailer
Single bike trailers are compact and lightweight. They are the best for parents with one child. Besides, these bike trailer for kids is easy to tow on sideways or through hilly roads with great balance.
Double Bike Trailer
Compared to a single bike trailer, they offer more space to accommodate two kids with extra room for cargo. Double bike trailers are more spacious with enough space for growing legs. They are the best child bike trailers for growing families and families with twins.
Convertible Trailer
These bike trailers easily convert from a bike trailer into a stroller or a jogger. The bike trailer for kids comes with front wheels in addition to the rear wheels for stability and easy maneuverability.
Multi-sport Trailer
These set of bike trailers are improved versions of the convertible trailer. They are designed for four different kinds of sports switching with ease for jogging, strolling, biking and skiing. They are the best kids bicycle trailer for families with active lifestyles.
What Is The Best Bike Trailer For A Child?
Thule Chariot Cheetah XT Multisport Trailer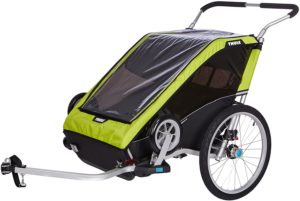 The best child bike trailer with aerodynamic design enhancing multi-sport capabilities, it is a perfect training partner for athlete parents.
More so, the bike trailer can conveniently serve four different activities such as biking, jogging, strolling and cross-country skiing. With a biking and strolling kit inclusive, it can convert easily from a four-wheel stroller to a bike trailer.
The child bike trailer comes with a flexible mesh at the above the seat to support a kid in a helmet.
Pros
Compact and lightweight carrier
Adjustable Height
Right handlebar for parent's comfort
Reflective material and reflectors to aid visibility
Limited lifetime warranty
Can carry two kids
Five-point harness system
Standard sunshade and rain cover
Double stroller wheels
Cushioned bench seat
Two internal mesh pocket
UV windows for ventilation
Cons
Limited to certain terrains
What Age Can A Child Go In Bike Trailer?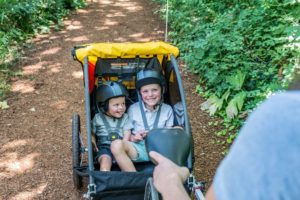 A child can sit in a bike trailer when they can support their heads independently. Most children have their head control and neck muscles strong and steady at about nine months.
The general rule has it that a child should be nine months old to ride in a bike trailer most especially if you have the best bike trailer for infants.
However, manufacturers of bike trailer recommend 12 months as a safer starting point for children as they can sit upright at this age.
Top 10 Best Bike Trailer for Kids
Burley D'Lite 1 and 2 Seat Kids Bike Trailer & Stroller with Seat Recline and Suspension
The Burley D'Lite convertible trailer offers optimized child's comfort with its adjustable 3-recline position.
Moreover, the bike trailer for kids has a Hammock seat style that is padded and removable with headrests, for added comfort. The adjustable suspension allows smoothest rides in all kinds of terrain.
Also, the bike trailer is versatile with an all kit compatibility for jogger, stroller and skiing conversion. The interior is roomy with bowed-out sides to accommodate two kids and has interior pockets.
Pros
Water-resistant zippers and cover
Spacious rear storage
Skid guard with integrated reflectors
Height adjustable handlebar
5-point harness system
Full length tinted UV windows
Quick receivers for easy conversion
Safety flag for added visibility
Adjustable sunshade for UV protection
Recessed helmet pocket
Easily converts to a cargo trailer
Cons
Hitch design is a bit complicated
Thule Chariot Cross Sport Stroller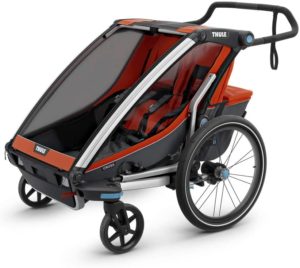 Give your kids an adventurous ride in the best kids bicycle trailer offering flexibility for an active lifestyle.
Although the child bike trailer comes with just a biking and strolling kit, it can also function for jogging and skiing.
The Thule Versa Wing system enables quick conversion between activities irrespective of the kit type. It is the safest bike trailer with a reclining and comfortable padded seat.
Pros
Adjustable leaf spring suspension
Rear light for added visibility
Compact and foldable
Extra-large cargo space
Independent reclining seat
5-point harness system
Double stroller wheels
Detachable weather guard
Can accommodate two kids
Cons
Hamax Outback Multi-Sport Child Bike Trailer + Stroller (Jogger Wheel Sold Separately) (Two Seats, White/Orange)
Family excursions can be exciting for kids with this multi-sport bike trailer for kids built with a hard aluminum frame.
The simple click transition allows easy switching for biking, strolling, jogging and skiing. It is the best bike trailer for toddlers with padded seats and an adjustable headrest, removable to accommodate growing kids.
Pros
Adjustable suspension
Height adjustable push bar
Quick fold cockpit
Broad UV-protected window, sunshade and waterproof coverings
Reflective materials and reflectors
Large cargo space
Stroller wheel and bike hitch inclusive
Padded 5-point harness
Parking brake
Double-lock safety indication
Rubber-lined mats
Cons
Burley Design Bee, 2 Seat, Lightweight, Kids Bike-Only Trailer, Yellow (946203)
Bring your kids on comfortable rides and family adventures with this double bike trailer. It features an innovative flex connector to allow the bike lay flat while the trailer rests in an upright position.
The bike-only trailer ensures durability with a full internal aluminum roll cage. It is the best kids bicycle trailer for cycling parents.
Pros
Hammock seat style
UV-protected windows
5-point safety harness
Quick-release wheels for flexibility
Recessed helmet pocket
Water-resistant cover
Reflective materials and reflectors to aid visibility
Steel hitch inclusive
Safety flag
XL rear storage space
Spacious cabin
Cons
Seats are not padded
No suspension system
Retrospec Rover Kids Bicycle Trailer Single and Double Passenger Children's Foldable Tow Behind Bike Trailer with 16″ Wheels, CPSC Approved Safety reflectors, and Rear Storage Compartment
The Retrospec Rover kids bicycle is one of the best bike trailer for kids. It features a CSPC approved safety indicator with reflective wrap-around fabric and high visibility flag.
Also, it is the best bicycle trailer with a versatile coupler compatible with most adult bikes. The unique design of the bike allows the durable steel fold down flat easily for storage and travel.
Pros
Ultra-durable hitch
Rent vent window
5-point harness system
Deep rear storage for cargo
Element and water-resistant cover
Available in single and double seaters
Spacious internal cabin
Interior pockets at the child's reach
Cons
InStep Sierra Double Seat Foldable Tow Behind Bike Trailers, Converts to Stroller/Jogger, Featuring 2-in-1 Canopy and 20-Inch Wheels, for Kids and Children, Multiple Colors Available
Rides can be more of an adventure for your kids with the best bike trailer. It is fully designed to protect your kids with the 2 in 1 canopy features of a bug screen and weather shield.
Additionally, the durable frame features a folding design for quick assembly and compact packing into the trunk of a car taking less space. With a swiveling front-wheel inclusive, it converts to fit as a stroller or jogger.
Pros
Quick-release buckles
Rear vent windows
Safety flag
Supportive bench seat style
Recessed helmet pocket
5-point harness system
Parking brake bar
Pneumatic tires for smooth rides
Universal coupler
Removable stroller handle
Budget-friendly trailer
Rear storage area
Cons
Maximum weight limit per child is 40lbs
Seat do not recline
Helmet recess is high
Keenz Stroller Wagon – 7S Pull/Push Wagon Stroller – Safe and Secure Baby Wagon Stroller and Stroller for Big Kids – Versatile Wagon Stroller Ideal for Special Needs, Purple
The Keenz wagon is a unique type of stroller with a pull/push feature to transport kids for various outings. With three adjustable heights on the sides of the five-point harness, the stroller is suitable for toddlers to older kids weighing up to 45lbs.
Also, the wagon stroller has a removable canopy with drop-down drapes and side curtains that can be pulled down. The stroller is collapsible into a self-standing fold for compact storage and transport.
Pros
5-point harness system
Pivoting lockable front wheels
Removable, washable interior
Built-in mesh sunscreen
Adjustable handlebar
Spring suspension
Parking brake
Built-in shoe storage
Cup holder, cooler and storage bag inclusive
Cons
Bulky when folded
Siting position could be uncomfortable to some kids
Schwinn Joyrider, Echo, and Trailblazer Child Bike Trailer, Single and Double Baby Carrier, Canopy, 16-20-inch Wheels
Give your kids fun memories on family vacations with the best bicycle trailer. The trailer includes a stroller/jogger kit with an adjustable handlebar and rotating front wheel for smooth rides.
More so, the baby bike trailer comes with a spacious interior with extra room for growing legs and keeps the child comfortable. The bike has a large bottle holder and a zippered compartment on the handlebar.
Pros
Reclining padded seat
Parking brake
Heavy duty metal construction
Five-point harness with shoulder straps
Bench seat style
Bright safety flag
Bug screen and weather shield canopy
Quick-release wheels
Unique design
Cons
No sun protection
Lacksrear storage space
BOB Yak 28 Plus Bike Trailer with Dry Sak
The Bob Yak is a lightweight bike trailer compatible with full-suspension bikes. It serves as the most popular means of carrying cargo for cyclist extending the benefits to recreation, training and transportation. It includes a waterproof Dry Sak with 94litres volume capacity for cargo protection.
Pros
Single wheeled
70 lbs carrying capacity
Full wrap fender
Easy assembly
Quick-release attachment system
Low center of gravity
Two safety flags
Reflectors to aid visibility
Chromoly steel construction
Cons
No kickstand
No tie-down straps to secure cargo
Cycle Force C23 Double Child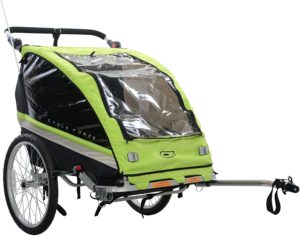 The child trailer comes with essential features to ensure a child's comfort and safety. It features a spacious interior with headrest and enough room for legs.
Moreover, the versatile bike trailer can serve as a jogger or trailer with a handlebar that folds when not in use.  A roll-up plastic screen provides weather protection from rain, wind and dirt.
Pros
Aluminum frame construction
See-through rear window
Quick folding design
Five-point harness
Parking brake
Bright flag
Reflectors for visibility
Cons
Front-wheel doesn't swirl
How to Choose the Best Bike Trailer for Baby
Finding the best kid bike trailer for your family's need can be a challenging process. Regardless of the type of bike trailer, there are certain features to consider when buying the best bike trailer for kids.
Durability
A durable trailer is necessary to ensure a child's safety. Bike trailers of various models are made with either steel or alloy metal frame; better models offer a roll cage (perimeter frame).
Be sure to get a bike trailer with sturdy frames as they protect in the event of a rollover.
Cabin Size
Bike trailers come with different cabin size. You might want to consider the rider when shopping for a bike trailer as internal cabin size paramount for your child's comfort.
Some bike trailers have a smaller cabin size with minimal space for headrest and shoulder. Double seater bike trailers are broad and offer more weight capacity compared to single-seaters.
Safety Features
Safety is the most crucial factor when selecting a bike trailer for kids. Some of the necessary safety features to note in a bike includes a 5 point harness, bright flags, reflectors, UV protected screen, brakes and many more. Make sure you get the safest bike trailer for your kids.
Flexibility for Storage
A foldable bike trailer is a good option for peripatetic parents or those with limited storage space. Bike trailers with quick-release wheels and quick folding mechanism make the folding process easier.
Other features to consider are the seat types, weather coverings, storage space, adjustable handlebar, adjustable suspension, price, trailer attachments etc.
Frequently Asked Questions
Should Helmet Be Worn In A Bike Trailer?
Just like regular bicycles for kids, a helmet is recommended in a bike trailer. The safety features in a child bike trailer are not sufficient to protect during a crash or rollover. The best bike helmets protect the child's neck and head from injuries.
What Is The Weight Capacity For A Bike Trailer?
Bike trailer models have varying weight carrying capacities. The general weight limit ranges from 80-125lbs for double seater trailers.
How safe are bike trailers?
Bike trailers are safe and convenient ways to tow your children with enough room to take their toys along. The durable frame of the bike and harness system offers protection for the kids. It also gives your little ones a feeling of serenity.
Conclusion
Children are the most precious gifts in a parent's life; their safety and comfort are of high importance. Besides, no parent would want to miss any moment in their child's when they can as well spend quality time with them.
Bike trailers are the safest way to have your kids around while doing other activities or on vacations. The best bike trailer for kids keeps the kids secure and comfortable, allowing the little ones to enjoy the ride with a feel of the natural environment.