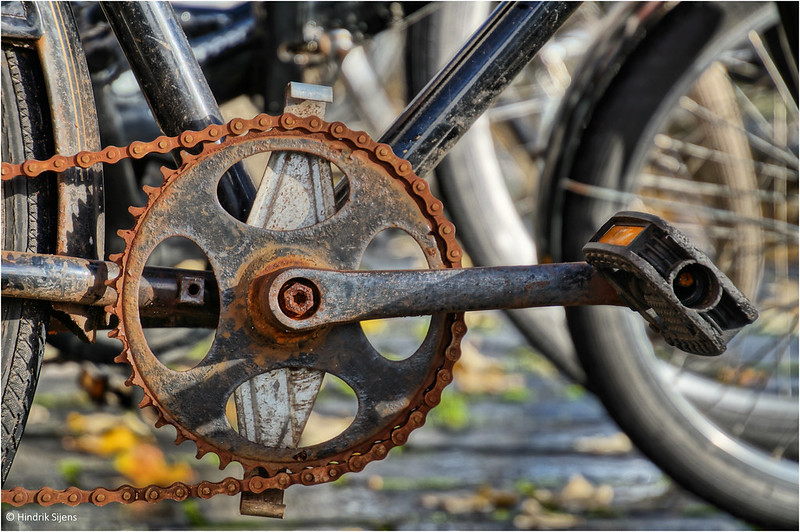 Whether or not you are new to cycling, your bike chains would tend to rust sooner or later. Rust and bike chains have a thing designed to discourage even the fastidious biker. Have you ever own a bike, you'll know how disappointing it can be to see your once good looking bike turn into a rusty and old looking bike. Discovering rust on your bike can be so irritating and can cause significant damage at worst.
Mostly if you have stopped using your bike for a while, there are chances that your bike will begin to develop some rust on the metallic parts; seeing this, you will want to attack rust immediately because it can corrupt the bike chain the longer it stays on the surface.
Rusting is a chemical reaction that takes place when a bike chain comes in contact with water, mud, salt and some other elements. It forms when oxygen, iron, and moisture collide.
Immediate attention given to your bike can help keep rust from forming, but sometimes bikes owned by the most careful bike owners still get rust.
However, are you finding it difficult on how to remove rust from bike chain? Below is a list of some steps on how to remove rust from bike chain.
Good Read: How to Change a Mountain Bike Tire
Steps on How to Remove Rust from Bike Chains
Inspect the bike
You should inspect the bike chain to find out the rust or how rusty the bike chain is. The rust may not eat your whole bike chain but some part of it. The rusting may just start, in this stage, you may not need to remove the chain and clean it, however, if the rust on the chain is much you will have to remove the chain and clean the rust that may be hidden in small crevices.
In order to get a better view of your bike chain, hang your bike on a rack or attach it to a bike stand, you can also turn the bike upside down. If you do not have a bike stand, hang your bike on the wall. Check the state of the chain, if you see warping, imperfections in the metal, or some deterioration, you may need to buy a new chain.
Clean With Degreasers
Soak a clean rag in a degreaser. Run it through the whole chain to remove buildup and grease. If the chain is attached make sure the degreaser gets to all the parts. Stubborn buildup might need a hard scrubbing with the rag before it comes free. However, ensure you wear latex gloves at all times you want to use degreasers, some of the degreasers are so harsh that they can damage your skin. Here are some recommended degreasers you can use Pedro's Pig Lube, and WD-40.
Be careful with degreasers. Check how good they are maybe by reading reviews because there are some that are really good at cleaning chains but may damage the surface of one's bike.
Scrub with Wet Steel Wool and Lime Juice
Here, you will need a wet piece of steel wool and lime juice. Soak the steel wool in lime juice and scrub the rusted parts of the chain; Scrub affected areas thoroughly with the wet steel wool, then wipe the surface periodically with a paper towel.
Rinse your steel wool in hot water and reapply the lime juice, if the rust may gunk up your steel wool. Remember to always wear latex gloves before you try it, as the process might get your hands rough.
Rinse with Warm Water mixed a Little Dish Soap
After Scrubbing with wet steel wool with lime juice, you will need to rinse the chain; Lime juice contains a lot of sugar which would dry on your chain and gum up the works if you don't rinse it away.
If you leave even the slightest lime juice on your chains it will lead to more rust. Ensure to rinse the chain in warm water mixed with a little dish soap to completely remove all traces of the lime juice and steel wool.
Lube the chain
This is one of the most important things you should do after you have cleaned the chains. If you don't properly add oil to the chains, it will get rust again. Add a few drops of quality lube chain and slowly spin the pedals so as to spread the lube around the chain
Baking Soda
Using baking soda is also a very fast means to remove rust from bike chains. It is one of the best ways to remove rust from bikes because if it is done correctly, it won't damage anything. Baking soda works on rust by forcing the rust to fade away quickly.
Steps on How to use Baking Soda to Remove Rust
Mix an equal amount of baking soda and water in a bowl ( a ratio of 1:1); mix them together until it becomes a thick paste.
Keep adding more baking soda and water to the mixture in case you need more paste
To make the paste stronger add a few drops of lemon juice
Using brush Apply the Paste on the rusted areas of the bike and leave to soak for about 10mins – 15mins
Then use the steel wool or the brush to scrub the paste away thoroughly until all the rust is removed.
Scrub off the paste thoroughly with a steel wool pad until all the rust has been removed.
Recommended Post: Best Full Suspension Mountain Bike Under 4000 Dollars
How Often Should I Lubricate My Bike
Using the correct lubricant will make sure the chain works correctly and can also help to expand the life of the chain.  It is important to lubricate your bike chain immediately after use if you are riding in challenging conditions, riding in the rain, like mountain biking in dirty terrain or any wet conditions.
Also, lubricate the drive chain on your bicycle if you realize it is sounding noisy, dry, or if the chain-link binds in any way. Mineral-based lubricating oil, specifically marketed as a bicycle-chain lubricant is the best choice.
Conclusion
The drive chain is the part that receives the most wear amongst all the parts that make up a bicycle. Cleaning rust from your bike chain can be very discouraging, mostly when it keeps coming back, disrupting your smooth bike ride. However, if you follow our guidelines listed in the above content on how to remove rust from bike chain your bike no longer encounters too much rust build-up.
Hopefully, you now have some ideas on some of the easiest ways to get rid of rust from your bike. After using the methods listed above, we believe your bike chain will return to its initial state.