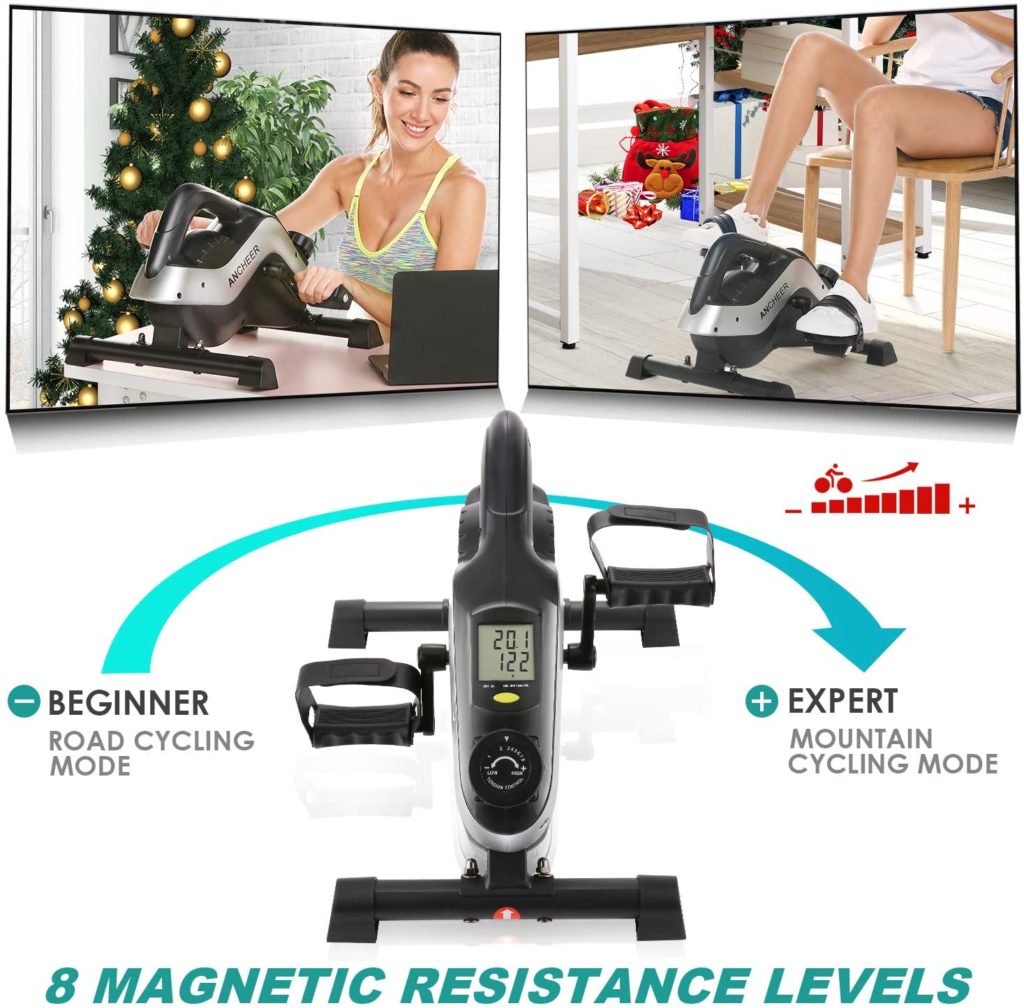 Unlike the standard stationary bikes, the portable stationary bikes are great for a low-intensity workout. They are great options for individuals with busy schedules who spend less time at the gym or exercising hence the reason for the best mini exercise bike.
Mini exercise bikes are less common among people as there is a lot of curiosity to if they will effectively facilitate weight burning. The exercise bike allows for concurrent work and exercise function.
The small size of the exercise bike allows it to function as an upper and lower body exerciser. If you're probably seeking a way to work or do other activities and still maintain physical health; this mini bike is the most suitable option.
The Best Portable Exercise Bike in the Market
DeskCycle Under Desk Cycle,Pedal Exerciser – Stationary Mini Exercise Bike – Office, Home Equipment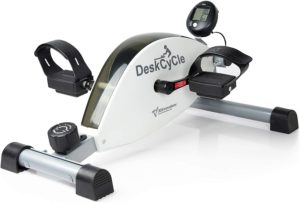 Stay active at home or within the workplace with the best portable exercise bike that works excellently with low desks.
With a patented magnetic resistance, it ensures a smooth and quiet operation with a healthy pedal motion.
The LCD function keeps track of over 16 hours of activity and includes a stand that enables you to set the display on your desk for convenient viewing.
Lastly, the bike supports an online app that makes it distinctive from other portable exercise bikes.
Recommended Post: Best Folding Exercise Bike for Short Person
Are Mini Exercise Bikes Effective for Burning Calories?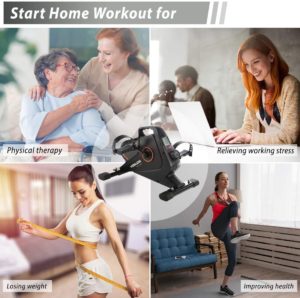 Mini exercise bike with accordance to its size might sound less effective in weight burning. With some component missing in this mini exercise bike, such as handlebars, seat and visible wheels; the portable exercise bike is left as just a pedal exerciser.
For most people in search of exercise equipment, the priority is precise on a weight-loss basis, which is determinant on the number of calories burned. The human body tends to store calories as fat to keep the body fueled.
A mini exercise bike will facilitate weight loss in combination with a calorie-controlled diet. However, calories are going to be burned at a slower rate compared to other exercise bikes.
Asides weight loss; there are other benefits of having the best mini exercise bike such as muscle toning, therapeutic rehabilitation, and improved vascular system.
Top 10 Best Mini Exercise Bikes
Sunny Health & Fitness SF-B0418 Magnetic Mini Exercise Bike with Digital Monitor and 8 Level Resistance
Burn calories at your comfort with this compact mini pedal exerciser with oversized textured non-slip pedals all sizes. The pedal straps work handily with the feet and hands.
More so, it features a magnetic system with a micro tension knob to modify the intensity of your exercise. The dual function of the stationary mini bike allows for an efficient lower and upper body workout.
ANCHEER Pedal Exerciser, Under Desk Cycle Mini Exercise Bike for Leg and Arm Exercise with LCD Monitor
The Ancheer mini exercise bike offers a low-intensity exercising to boost health. It is ergonomically designed with an additional pedal pair to function for leg and arm exercise.
Additionally, the mini stepper is built within the ideal height to provide an efficient workout. The portable size of this bike along with the handle design makes it easy to carry around.
To avoid slipping while cycling, the mini bike is made of a durable steel frame with a stable non-slip base.
Hausse Portable Exercise Pedal Bike for Legs and Arms, Mini Exercise Peddler with LCD Display, White
The Hausse Pedal bike is one of the best mini cycles for efficient arm and leg work out in the market.
Furthermore, the bike is beautifully designed with an adjustable knob to customize different resistance modes for an intense workout. An extra strap is equipped to secure the mini pedal exerciser while cycling.
The LCD screen is a 5-function monitor that lets you keep track of your time, distance, speed, revolutions per minute and calorie burned.
YOSUDA Under Desk Bike Pedal Exerciser – Magnetic Mini Exercise Bike for Arm /Leg Exercise, Desk Pedal Bike for Home/ Office Workout
Exercise your arms and legs with the best mini exercise bike designed with a sturdy ABS frame. Stability is assured while cycling with the four non-slip rubber pads and two wide base tubes.
The mini pedal exerciser is pretty simple to assemble within minutes. A built-in handle allows the user to exercise anywhere, anytime. Lastly, the pedals have double fixation to avoid slipping while cycling in a forward or backward motion.
Vaunn Medical Folding Pedal Exerciser with Electronic Display for Legs and Arms Workout (Fully Assembled Exercise Peddler, no Tools Required)
A mini pedal exerciser with a quick release folding mechanism, specially designed for therapeutic purposes. It is efficient as a leg and arm exerciser to improve blood circulation at moderate levels of intensities.
The portable stationary bike is best for a gentle low-impact workout. The user requires a height clearance of 13 inches for under desk use.
An extra strap is provided to secure the bike to the chair or table while cycling to forestall jerking.
Portable Exercise Bike, Under Desk Mini Pedal Exercises Bike Foot Cycle Therapy Leg and Arm Peddler Recovery Medical Machine, Mini Desk Bike for Office Use
A portable stationary bike is an excellent choice for individuals to relax muscles and reduce joint pains. It is useful as a leg and arm exerciser for use at home and in the workplace.
Additionally, the pedals come with a non-slip surface that has molded finger grips and adjustable toe loops for added comfort.
It is the best mini cycle for individuals with sedentary jobs. The compact design of the mini pedal exerciser offers a comfortable fit under the desk.
Exerpeutic Motorized Leg and Arm Pedal Exerciser Mini Exercise Bike with Bonus Mat
The exerpeutic pedal exerciser allows the user to exercise with a motor-assisted cycle movement. A constant pedaling motion of this bike helps to circulate blood in the body and additionally improves flexibility and balance.
It is one of the best motorized mini exercise bikes with a hand-held speed controller. It allows an effortless motion for individuals with physical limitations.
Stamina Mini Exercise Bike with Smooth Pedal System, Purple
Start your fitness journey using this pro fitness mini exercise bike with a smooth pedal system. The mini cycle exercise bike helps to build the upper and lower body muscles improving overall health.
Moreover, the intensity of the workout can be modified conveniently with the easy-to-reach tension dial. Invest in your health and physical improvement with the mini stationary bike.
IDEER LIFE Under Desk&Stand Up Exercise Bike, Mini Elliptical Trainers Stepper Pedal w/Adjustable Resistance and LCD Display, Fitness Exercise Peddler for Home&Office Workout
In search of a mini exercise bike that exercises your body in a sitting or standing position, you just found it! With the large anti-slip textured pedal, it ensures comfort and secures your feet while cycling.
Additionally, it is perfect for improving general body health. The portable stationary bike is designed with multiple levels of resistance adjustable for a varied workout. It has an ergonomic handle and two transport wheels for easy mobility.
TECHMOO Exercise Bikes Physical Therapy Leg Exercisers Sport Foldable Pedal Exerciser, Stationary Under Desk Exercise Equipment Arm/Leg/Foot Peddler Exercise with LCD Monitor
Improve your concentration and build muscles while you work with this pro fitness mini exercise bike. The foldable design of the bike makes it portable for use at any location.
The pedals are made for dual function, to strengthen the arms and legs for an efficient workout. This mini pedal exerciser is an excellent option for individuals requiring rehabilitation.
Lastly, the portable stationary bike has a resistance adjustment knob to modify intensity levels.
How to Choose the Best Portable stationary bike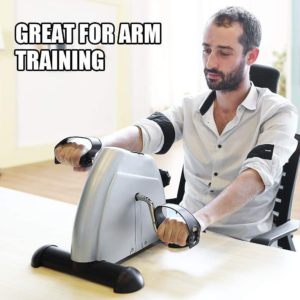 Finding the best mini exercise bike can be tough because it involves getting the right bike to maintain physical activity. There are certain features to look for when buying a mini exercise bike.
Display
The best mini exercise bike has easy-to-read displays, sometimes removable with a stand to be set on the desk while exercising.
Look for the mini pedal bikes that show mixtures of details like speed, distance, time, calories burned, odometer, scan etc.
Resistance
The resistance system is an essential feature in all varieties of mini stationary bike. It is necessary for an intense workout and also to provide smooth and quiet operation.
Be sure to get a bike that includes a knob for a manual switch of resistance levels to achieve an efficient workout.
Size of the Bike
As absurd as it might sound, the purpose of obtaining a mini exercise bike is that it ought to fit under a table or any place handily. The portable size of the bike makes storing and moving around easier once required for use.
Stability
The stability of the exercise mini bike is additionally another critical issue, though small in size, it ought to be durable. The durability is to avoid slipping on the ground when cycling.
Also, stabilizing components like wide front legs or pedal size eliminates rocking and keeps the bike stable on the ground.
Some of the bikes come with an anti-slip base, extra strap or a security slot that one will use to secure the bike to the chair or table. These components facilitate the steadiness of the bike.
Pedals
Like any other exercise bikes with pedals, the mini exercise bike has its pedals uniquely designed for use with the legs and hands. You should get a bike with comfortable pedals and adjustable Velcro straps to forestall slithering off the bike.
Why Do You Need a Pedal Exerciser?
Cardio practice has demonstrated to be gainful to keeping the heart solid and pedal exerciser gives a simple type of cardio exercises. Additionally, because of the absence of portability because of work area work or aging, the utilization of pedal exerciser will incredibly assist with improving versatility and stay fit.
Pedal exerciser likewise causes the client to participate in indoor cycling from anyplace around the home and any time. Besides, mini exerciser assists with reinforcing the lower body like the hamstring, quads, calves, and hips. It is additionally flexible and can be utilized to target and reinforce the chest area district. To use for this reason, you just need to pedal with your arms rather than the feet.
In this manner, a mini exercise bicycle is a valuable cardio exercise instrument for both lower and chest area exercise as it additionally fortifies the bicep, rear arm muscles, shoulders, and lower arms.
Major Benefit of Using a Pedal Exerciser
The main advantage of utilizing an underdesk area exerciser is the capacity to continually get the inert individuals dynamic, particularly the older folks who think that its hard to move from one spot to the next. Aside from getting you dynamic at all time, it is additionally a decent one to get your heart siphoning for better wellbeing.
Pedal exerciser like other exercise bicycle assists with consuming calories, however it probably won't be as compelling as a recumbent bike and upright exercise bike in calories consuming. In any case, to a sensible degree, it assists with consuming calories.
Recommended Post: Best Rated Recumbent Bike for Seniors
Frequently Asked Questions
Can The Mini Exercise Bikes Be Used For Arms?
Although the bikes will function as an upper-body exerciser, not all mini exercise bikes are designed for this function.
Some of the bikes are designed with large foot pedal and will be cumbersome to use with the arms. It runs the chance to hit your knuckles/fingers against the table.
How Different Is A Motorized Bike From The Regular Mini Bikes?
Motorized bikes or recumbent bikes, unlike other regular bikes, are aimed to provide support to individuals with limitations in physical activity. Using an adjustable speed motor, it serves to enhance flexibility and blood circulation not notably focused on losing calories.
Can The Pedals Be Operated In Reverse Motion?
Not all exercise bikes are designed to run in the reverse motion. If forced, might ruin the pedal motor. A simple solution is to turn the bike round to operate in reverse.
Is 30 Minutes a Day On an Exercise Bike Enough?
The exercise bike consumes calories, help with making a caloric shortfall which is essential for weight reduction. The normal individual can burn 260 calories for a moderate 30-minute ride on a stationary exercise bicycle, which can add to your general weight reduction objectives.
Conclusion
A busy schedule shouldn't get in your way to exercise regularly as mini pedal exercisers are available for this reason.
Inactivity in the body can lead to stiffness in the joints and less productivity at work. Health they say is wealth, and we all desire to enjoy a long-term lifestyle.
The mini exercise bike is the simplest, quickest and also the most suitable for individuals to exercise in their comfort zones.
Not only will it facilitate in losing weight, but it also improves health, energy state and productivity. Effectively enjoy indoor cycling to lose weight while not having to hit the gym with an exercise bike for bad knees.